The RMOB Survey Software is writing for display all RMOB files of one year per observer.

Below screen shoot of RMOB Survey with Dave Swan 2002 RMOB files loaded.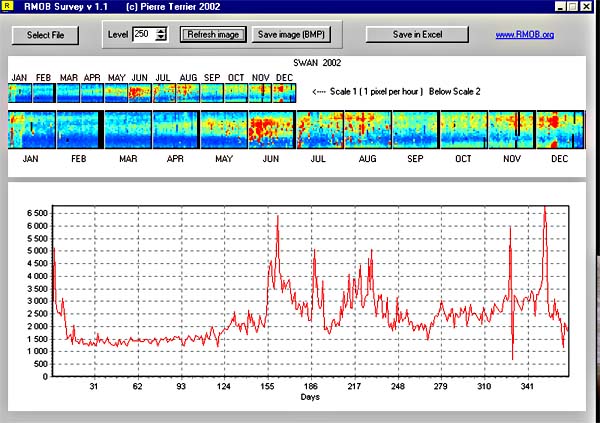 It is very useful for see many phenomena.
Meteor shower periodic apparition.
Background Meteoritic noise.
To see the problems in adjustment of the receiving radio station and modifications of the receive parameters of the observers.
And it demonstrates the utility of permanent monitoring meteor radio noise.
It open the way to an deepened analysis of long length phenomena.
RMOB Survey software is a freeware and work properly ONLY under Windows® 95-98-2000-XP
Minimum Requirement : PC Pentium SVGA screen 800x600 16 bits colors 32 Mo Ram.
RMOB Survey is a part of another software Colorgramme see http://radio.meteor.free.fr
To download click here !
The files of the Year 2000 - 2001 and 2002 is include in this version.
To install : After download unzip RMOB_SURVEY_V11.ZIP then run SETUP_RMOB_SURVEY_V11.EXE
Possible ERROR message at running if you don't have Microsoft EXCEL onto your computer !
Skip this message then continue, that work properly, but don't use "Save in Excel" button.
No help file is present, but it is very easy to use.
To upgrade the RMOB observers files please come back on this page monthly to download next month RMOB observers files below.
DATA for the YEAR 2000
DATA for the YEAR 2001
DATA for the YEAR 2002
DATA for the YEAR 2003
DATA for the YEAR 2004
DATA for the YEAR 2005
DATA for the YEAR 2006
DATA for the YEAR 2007
DATA for the YEAR 2008
DATA for the YEAR 2009
DATA for the YEAR 2010
DATA for the YEAR 2011
DATA for the YEAR 2012
DATA for the YEAR 2013
DATA for the YEAR 2014
DATA for the YEAR 2015
DATA for the YEAR 2016
DATA for the YEAR 2017
DATA for the YEAR 2018
DATA for the YEAR 2019
DATA for the YEAR 2020
DATA for the YEAR 2021
DATA for the YEAR 2022

---